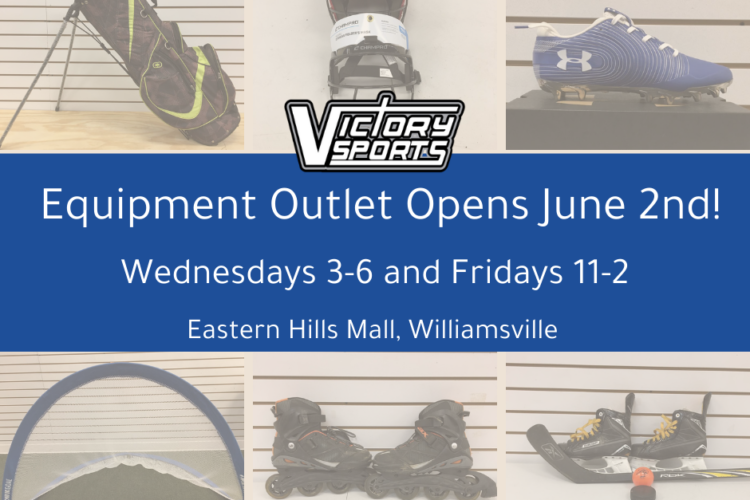 Williamsville, NY – May 26th
We are excited to announce that the new Victory Sports Equipment Outlet will be open for limited hours on a weekly basis at the Eastern Hills Mall in Williamsville.
Beginning on June 2nd, you can stop by on Wednesdays between 3-6 and Fridays from 11-2 to check out all the new and used equipment we have available to purchase at great prices, with all proceeds going towards our community work. Save money and support a good cause – what's not to like?!
This new revenue stream – 'earned income' – will play a key role in Victory Sports becoming more self-sustaining.
Our priority has been and will always be giving sports equipment to under-resourced schools, youth programs, teams, and athletes in the community. Going forward, we will make some of our excess inventory available to purchase for those able to do so. The proceeds will be used to purchase more equipment for our partners so they can continue delivering quality youth sports and recreation programs to children from disadvantaged socio-economic backgrounds as well as subsidizing costs for individuals and families that need help equipping their kids.
Similar to a Goodwill or Salvation Army model, when you purchase an item from Victory Sports, you can be confident that those funds are helping to get equipment into the hands of a child who wants to participate in sports and experience all the wonderful benefits that come from it.
Another benefit of our new location is the extra space it provides us for volunteering opportunities. The square footage allows us to have more people socially distanced inside to help with sorting and storage of equipment or any of the other volunteering requirements we have going forward.
We can't wait to have you come and check out the equipment we have available to get your kids outfitted at great prices for baseball, softball, football, soccer, hockey, lacrosse and more. Supplies are limited and we can't guarantee all products and sizes are available as we rely on donations for our inventory but come check out what we have in store! You never know what you might find…
The address is Eastern Hills Mall, 4545 Transit Road, Williamsville, 14221. Use the entrance by Duff's/BFLO Store to find us.
Please consider donating your unwanted new or gently-used sporting equipment to Victory Sports via any of our drop-off locations around greater Buffalo, or of course at the new location itself.
Victory Sports will continue to operate as usual as a non-profit organization with the primary objective of getting sports and play equipment to under-resourced schools, youth programs, teams and athletes – free of charge. We will continue with our Ball-Bin initiative around Erie and Niagara County as well as our other core projects.